With each of our innovator stories, we get a chance to meet the people behind EU-funded ideas, which have the potential to change our future for the better. 
With that in mind, we spoke with the Innovation Radar Prize 2022 winner Sella Brosh. He's the CEO of NVision, a quantum tech powerhouse developing an imaging technology that will provide oncologists unprecedented early insights into treatment efficacy, allowing non-responders to be moved onto another line of therapy more quickly.
NVision is listed on the Innovation Radar and was supported by the EU with 3 m EUR so far via different R&I projects, i.e., QuSCo, MetaboliQs, and ASTERIQS.
Tell us more about yourself and your work? 
I am Sella Brosh, an Israeli-born medical doctor and entrepreneur. Before joining the leadership team of NVision, I worked as a senior engagement manager at the US mid-Atlantic office of McKinsey & Company. Since 2016 I have been working alongside a fantastic team at NVision to improve clinical outcomes for patients with cancer and other diseases around the world.
NVision Imaging is leveraging advances in quantum physics to enable the first routine, convenient and affordable use of Magnetic Resonance Imaging (MRI) for assessing early patient response to cancer treatment at the metabolic level.
NVision was established in 2015 as a spin-off company from the world-renowned Institute of Quantum Optics and the Institute of Theoretical Physics of the University of Ulm, Germany. It was co-founded by Prof. Dr Fedor Jelezko, Prof. Dr Martin Plenio, Prof Dr Alex Retzker and Mr Ilai Schwartz, the CTO of NVision.       
The company raised 14.9 m EUR of private funding in 2 rounds of financing from leading VCs in the US, Germany and Israel, and is currently in the process of finalising another funding round to support its commercialisation and clinical development efforts. NVision was also fortunate to win highly competitive public R&D grants – from the local state of Baden-Württemberg (BW Invest), the German federal government (BMBF) and the European Commission (for example through the Quantum Flagship program).
By leveraging that funding, we were able to launch a demo system in late 2021 and demonstrate its value together with our clinical collaborators from leading hospitals in Germany. We are planning to launch the first commercial systems in 2023, and distribute globally thereafter, with first customers in the EU, UK and US.
METABOLIC MRI PROVIDES UNPRECEDENTED INSIGHTS AT CELLULAR LEVEL:
Detects slow-changing effects at tissue level.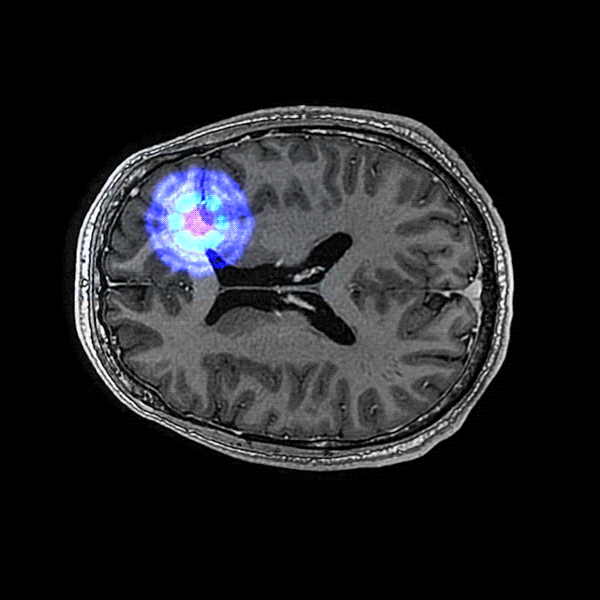 Detects early changes of key metabolic pathways at cellular level.
What problem is your product solving and what makes its solution unique?
NVision is developing devices called "polarizers" that serve as add-ons to standard clinical MRI scanners and allow clinicians in combination with the MRI to very early predict the effectiveness of cancer treatment, even just a few days after the start of treatment. This allows clinicians to adapt patient treatment plans and thus increase treatment efficacy, reduce toxicity and reduce overall costs to the healthcare system.
In this context, our company is standing on the shoulders of giants in clinical imaging. Our target is not to replace current technologies, but to provide unprecedented, critical add-on functionality that brings MRIs to a whole new level – the level of metabolic imaging, with the potential to improve patient outcomes and save lives. Current MRI scanners can provide information on the tissue level, but they cannot provide information on cellular/metabolic level. Inner cell metabolic changes are central to many human diseases, such as cardiovascular disease, diabetes, inflammatory conditions, and cancer. For example, research has demonstrated that metabolic changes precede any other changes in tumours (e.g., size) by months. Therefore, early and routine assessment of metabolic response to cancer therapies is critical for rapidly optimising patient care and saving lives, but delivering on that goal in routine clinical care has been impossible so far. This is where NVision's technology comes in.
Our add-on polarizers enhance the signal of natural metabolites such as pyruvate (safe for the patient, without involving ionizing radiation) by 100,000 times. This is done on-site with our easy-to-use polarizer. The enhanced metabolite will be injected into the patient and distributed within the body, including the tumour target region. With our platform we will transform standard MRIs into metabolic imagers at scale and in doing so enable broad access to precision medicine in clinical research and clinical care.
What's the biggest impact EU-funding has had on your journey so far, and can you specify an outcome?
NVision is a child of European funding: It all started with European funding for New Imaging technologies (HyperDiamond) and the FET Innovation Launchpad (QUSMI) in 2016, allowing for the first employee of the company – that was me – to be onboarded. The initial European funding, together with the Quantum Flagship funding (METABOLIQS and ASTERIQS) in 2018, allowed NVision to raise its seed round with private funding from strong DeepTech VCs.
With the above, the EU has been the kickstarter for our journey – and we are very thankful for this.
Have you already tested your product with clients? What was it like?
NVision's beta system has been tested at the Klinikum rechts der Isar at the Technical University of Munich, Germany, as well as at the University Hospital of Ulm. The first tests with users were an exciting moment for us – and the tests generated excitement with the users. The experiments provided strong results in terms of signal enhancement, while at the same time showing robustness and high speed.
NVision puts a strong emphasis on its customer relationships and therefore invites future customers to experience the operation of our system either on our Ulm premises or at a partner's site.
What is your NVision's greatest achievement to date?
NVision has been successful in winning highly competitive grants and collecting private funding from strong global VCs. Nonetheless, we consider our greatest achievement to be the development of the only truly scalable and user-targeted solution to metabolic imaging: NVision's metabolic imaging platform. We are proud to be at the forefront of a huge clinical impact in cancer treatment and beyond oncology through the introduction of this technology to a wide clinical user base.
How do you see NVision making a difference in the future?
NVision's target is not to provide yet another clinical high-end tool that only a few affluent payers or hospitals can afford. Our vision is to create true clinical impact – and do this at a broad scale. To this end, NVision will both support its users, e.g., through scientific and regulatory as well as funding support, and support the development of novel clinical applications within and beyond oncology.
Why was participating in Dealflow.eu's Innovation Radar Prize 2022 epitching event so important to you?
NVision is actively seeking to create strong networks with like-minded players across the EU – and beyond – and across different industries. Dealflow.eu's Innovation Radar Prize was a good opportunity for us to foster and grow our network and at the same time increase our visibility in the market.
We are very proud that we received the chance to come back to the European Commission after our strong track record with the Commission in the past to present our work now. The recognition from the jury and the community makes us proud and reinforces our belief in the path we are taking.
What did it mean to you to win the IR Prize 2022?
We were astounded to see the great breadth and strength of so many young startups in the race for this year's IR Prize. We are extremely proud and feel humbled to have been awarded the IR Prize 2022, and continue our success story with the EC.
How would you define success and what keeps you going in the pursuit of it?
Albert Einstein – born in Ulm, Germany, which also is NVision's homeplace – famously said this about success: "Try not to become a man of success, but rather become a man of value." In this sense, we do not want to only create EBIT, but we want to create VALUE. Value for the patient, value for clinicians and value for the healthcare system. Beyond this, we believe in our team and want to create lasting value there as well – by building a great workplace and by supporting each of our employees on their journey as individuals and together as a team. This is what motivates us to give our best every single day.
About Innovator Spotlight Stories
The aim of innovator stories is to highlight and share with investors and relevant stakeholders in the industry, insights, and unique stories from some of the most innovative EU-funded project that Dealflow.eu is proud to support.
If you are an investor who wants to connect with NVision, please feel free to reach out at [email protected]
More about Dealflow.eu 
Supported by the European Commission, Dealflow.eu discovers and supports the most promising EU-funded innovators and connects them with relevant investors and corporates. The initiative was launched to help groundbreaking innovations secure the funding needed for their future commercialisation by offering them tailored support and matchmaking services. 
To learn more about Dealflow.eu, visit https://dealflow.eu/ 
Disclaimer: Funded by the European Union. Views and opinions expressed are however those of the author(s) only and do not necessarily reflect those of the European Union or the Directorate-General for Communications Networks, Content and Technology. Neither the European Union nor the granting authority can be held responsible for them